BACK TO THE COOLER
Tips & Tricks: Blueprints for Valentine's Day 2019
Hi Floral Designers,
I wanted to share a helpful resource for designing those all-important Valentine's Day arrangements. Check out these great tips from Floral Pulse below.
Sincerely,
Kristina Miller
Director of Floral
---
Tips & Tricks: Blueprints for Valentine's Day 2019
BY BILL SCHAFFER | JANUARY 04, 2019
In Floral design, tricks are techniques, abilities; your expertise and know-how. Once you learn these 'tricks' they can often seem like magic.
This month's tips and tricks are focused on four design styles that can be created for Valentine's Day 2019.
Before we start: remember to always adjust your types of flowers and foliage, stem counts/recipes based on the size and scale of the individual stems and most importantly, on your company's design budgets.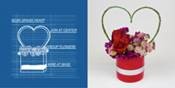 The Bear Grass Heart is a fast and easy armature that can be created in advance and stored — waiting for you to add flowers. With metallics trending up for the past few years, this is the perfect gift for that modern Valentine. Cut two equal lengths of bark wire to form equal-sized halves of the size of the heart that you want to make.
Using 20 stems of bear grass, wrap your metallic-colored wire around the bear grass and bark wire. When ready to use, insert the two bear grass bundles into the center of the floral foam and shape into a heart and attach the two sides in the middle.
Repetition in design adds power and interest. Repeat the metallic by adding matching colored flat wire around the container. To add the flat wire use UGlu Strips or dots to hold it in place. The heart adds height and value to the design through the clever use of 'negative space.'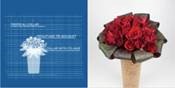 The Valentine Tropical Collar will focus the emphasis ofthe design on whatever flowers you choose to use inside of them. With emphasis in the consumer market on plants and leaves (particularly tropical foliage) framing the flowers within the foliage will make your customer a No. 1 Valentine. Using the flowers of your choice — or even an existing pre-made bouquet — create a hand-tied design. At this point (if you wish) you can wrap the bouquet with tape or paper-covered wire to secure the shape that you want to maintain. Evenly distribute the foliage around the edge of the bouquet to form a collar. Secure the foliage with tape or paper-covered wire. That's it! Place it into the vase of your choice and create a happy customer.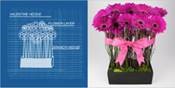 The Valentine Hedge is a floral foam-based design that can utilize almost any opaque colored container that you desire, though a low rectangular or square container would be a best choice for this design. Geometric designs in fashion, home décor and prints and patterns have emerged in the past couple of years and have heightened the consumer's awareness of them. The hedge design forms a great geometric shape. By using branch material to form the hedge, you are creating a strong structure to support the heads of the flowers that you use. By placing the flower heads just above or right onto the top of the branches will allow them to draw water longer by not letting the heads bend on the stem with age. Finish your design with ribbon to create the perfect Valentine gift.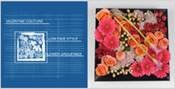 The Valentine Couture is a grouped floral design concept featuring Pantone's 2019 Color of the Year: Living Coral. Grouping flowers and foliage is great way to add importance to every flower you choose. By grouping the flowers by variety and color, you are able to emphasize the individual textures of each collection. Creating these strong groups makes it easier for the human eye to follow a rhythmic pattern throughout the floral design. This style of design is called 'Pave' (think of pave' jewels in jewelry). In floral design, pave' is a basing technique that uses short-stemmed flowers and foliage at parallel or matching angles to create a uniform surface. Make sure your floral foam is flat and even before starting this composition. You can create depth by placing the heads of different groups of flowers at different heights right at the top of the floral foam or slightly above it. In a grouped design, the flower heads will support themselves, allowing for longer life without bent heads on a stem. Your Valentine Couture arrangement will also allow for more water to directly reach the flower's head — because there is not a long stem to draw water through.