Selling the "Good Stuff"
Since 1945
What's Fresh
Today?
Peirone Produce
Will Remain Open During the "Stay-AT-Home Order"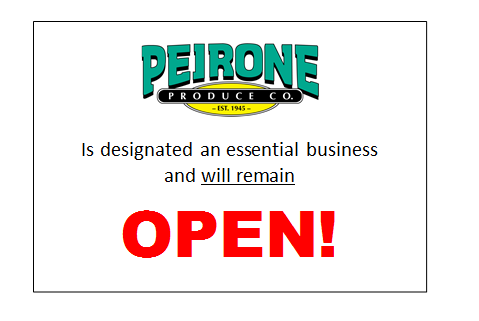 Peirone Produce
Our Customers are the Real Super Hero's
.
Important
Contact Numbers
During these unusual times, we want to provide you with a "Peirone Key Associate Cell Phone Contact List".
FMI highlights
coronavirus is not foodborne
The CDC says there is no evidence to support the virus is transmitted through food. While it is possible that a person may catch COVID-19 by touching a surface or object with the virus on it and then touching their mouth, nose, or eyes, that is not the main way the virus is spread.
Fresh Produce Industry Resources
Coronavirus
Please click here for a United Fresh Produce Association alert on the Coronavirus and the Fresh Produce Industry.
Peirone Citrus Cup
Announcing the Annual Citrus Cup
Contest Dates 3-16-20 thru 3-31-20
Two parts to the contest:
Halo Mandarins
Kings River Citrus
TONS OF PRIZES
Produce Marketing Assoc.
Training
PMA (Produce Marketing Association) Produce Training Guides uploaded and ready to use:
Customer Focus
Merchandising Essentials
Sales Promotion
Food Safety
Top 20 Produce Items
Inventory Management
Supermarket Math
Previous
Next
The Produce Cooler
We spend a lot of time on relationships
Over seven decades later, Peirone Produce still operates under the guiding founding principles of cultivating and maintaining a spirit of world-class customer service, roll-up-our-sleeves dependability, hard work, and relentless commitment to providing the freshest and top-quality produce at highly competitive prices. Want to know more? Click below.
See what makes us tick.
"They truly care about my stores and the people that work there. They want to see us succeed."
- Dave Erickson, Rosauers Merchandiser/Buyer
"What separates Peirone from everyone else is their commitment to our brand."
- Noel Siler, Domestic & International Sales Executive, Sun World
"The cooperation they have with their suppliers relays right back to us. It's a great partnership."
- Alan Bradetich, Super 1 Produce Supervisor
"They do a really good job with their deliveries and that is so important to our guys."
- Duane Wentz, Yoke's Produce Supervisor