Selling the "Good Stuff"
Since 1945
What's Fresh
Today?
Peirone's on line virtual
Floral Expo
Here's your sneak-peak of summer bouquets The Spring Expo 2020 video is your chance to get up close and personal with some of our top sellers and summer feature bouquets.
Peirone and URM team up to support and
thank local health care workers
As one of our fearless first responders, please accept this gift as a small token of our sincere gratitude for all that you are doing to protect and care for our communities during this challenging time.
Thank You From URM & Peirone Employees
Peirone Produce 2020 Citrus Cup
Winners Announced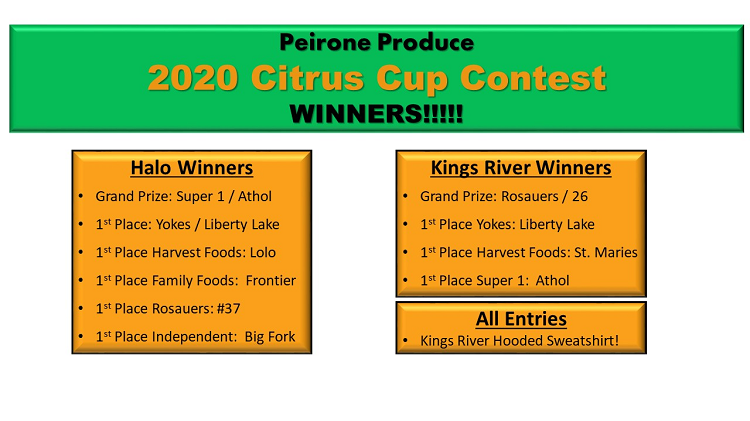 Produce Marketing Assoc.
Training
PMA (Produce Marketing Association) Produce Training Guides uploaded and ready to use:
Customer Focus
Merchandising Essentials
Sales Promotion
Food Safety
Top 20 Produce Items
Inventory Management
Supermarket Math
Previous
Next
The Produce Cooler
We spend a lot of time on relationships
Over seven decades later, Peirone Produce still operates under the guiding founding principles of cultivating and maintaining a spirit of world-class customer service, roll-up-our-sleeves dependability, hard work, and relentless commitment to providing the freshest and top-quality produce at highly competitive prices. Want to know more? Click below.
See what makes us tick.
"They truly care about my stores and the people that work there. They want to see us succeed."
- Dave Erickson, Rosauers Merchandiser/Buyer
"What separates Peirone from everyone else is their commitment to our brand."
- Noel Siler, Domestic & International Sales Executive, Sun World
"The cooperation they have with their suppliers relays right back to us. It's a great partnership."
- Alan Bradetich, Super 1 Produce Supervisor
"They do a really good job with their deliveries and that is so important to our guys."
- Duane Wentz, Yoke's Produce Supervisor