TODAY, MANY CONSUMERS VIEW FRESH FLOWERS AS A BASIC PART OF THEIR WEEKLY SHOPPING TRIP
Peirone Floral has direct access purchasing power for flowers, plants, and supplies from all over the United States, Canada, and Central and South America. This allows us to bring the very best floral offerings directly to our customers. When you buy flowers from Peirone, you can expect quality, advantageous costs and unparalleled shelf life. Our customer service guarantee and exceptional service combined with floral and plant knowledge is integral to our personal commitment to creating long-term relationships with our customers.
On our website, you will find all our floral offerings including: plants, bulk greens, bulk cut flowers, supplies, beautiful bouquets (including rose bouquets), consumer bunches, as well as our floral pre-book sheets and pictures of the flowers, greens, and current bouquets. In addition, we are constantly sourcing and posting tips and tricks, floral recipes, fresh-from-the-farm photos, and updates in the floral industry on our Floral News page. Everything you need is right here with Peirone Floral. We want to help bring beauty, creativity, and superb selection to you and your valued customers.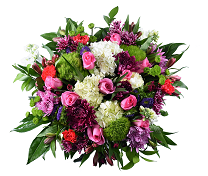 ---
FLORAL NEWs, tips, customer pix, and more
FLORAL PRE-BOOK ORDER SHEETS
Return-by dates noted on each order form (they tend to sneak up on ya'!)
everyday catalog
---
spokane parks bouquets
---
August featured bouquets
---
Sept. - Nov. featured bouquets
---

INSTRUCTIONS
1. Select the pre-book button of your choice
2. Print & fill out the order form(s)
3. Fax or email the completed form(s)

KRISTINA MILLER, FLORAL MANAGER & BUYER
Phone: (509) 838-3515 x218
Email: kmiller@peirone.com
Fax: (509) 838-3916




11